The Near North Unity Program (NNUP) was formed in November 2010. NNUP seeks to promote and strengthen community cohesion in Chicago's Near North community and to connect existing sub-communities into a resilient neighborhood by building upon local strengths through planning, organizing and human development.
Near North is defined by the following boundaries: North Avenue to Chicago Avenue, Wells Avenue to Halsted Street.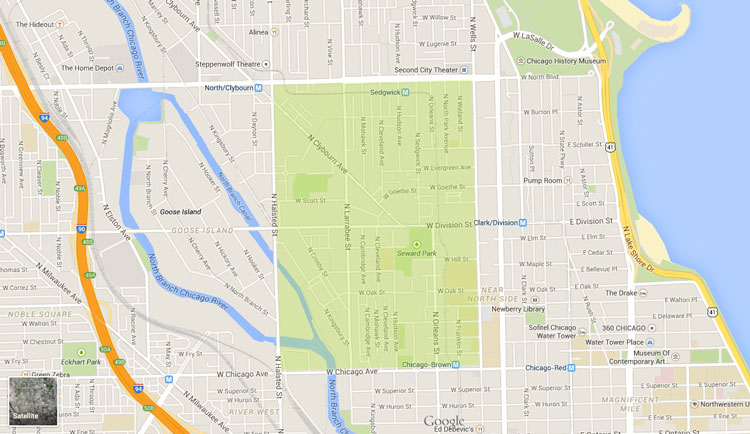 Our Community Vision
The Near North area is a vibrant, thriving, diverse community, built upon respect and trust. We are overcoming years of division and striving for positive change. We have the resources and talent to open new opportunities for all of our residents and stakeholders. Our history, diversity and creativity make us a model for building relationships across races, classes and generations. We strive to understand each other and reach out to the unique perspective of each person and organization in Near North. By working together we create richer relationships and expand opportunities for everyone.
Our Principals: We Believe
We believe our community is rich with resources – people, institutions and businesses – that can be connected. Our goal is to break down barriers and create a more cohesive community.
We believe our diversity and our ability to work together are our strengths. We believe there is a common good in all people and we can be good neighbors for each other.
We believe in the opportunity for good and change for better. We believe in the principles of "each one teach one" and "respect your neighbor as yourself." We believe that communication is the avenue to change.
We believe in a positive future, taking advantage of our diversity to build connections, opportunities, and avenues for everyone in our neighborhood.
Our Goals
The goals of NNUP are to promote communication and cohesion; develop programs that cut across class, race, housing status and geographic boundaries, providing a common interest to the community as a whole; respond to community issues; and develop a cohesive local leadership structure.
Our Advisory Board
Kristen Boike
Michele Dreczynski
Mary Ann Granger
Mike Rolfes
Aaron Balsam
Collette Carter
Ruth Gossell
Jolanda Bailey
Alderman Walter Burnett
Our Staff
Michele Dreczynski, Program Manager
Randall Blakey, Executive Director